GUADALAJARA is the second largest city in Mexico and one of the most colorful and cultural cities in the world. In addition to being the most "European" of all the major Mexican cities, it is also the birthplace of some of the most recognizable symbols of Mexico -- including tequila, sombreros, mariachi music and colorful handicrafts. And to gay travelers, GUADALAJARA is known as the "San Francisco of Mexico" because of its sophisticated charm and one of the largest, wildest, most diverse gay scenes in the world.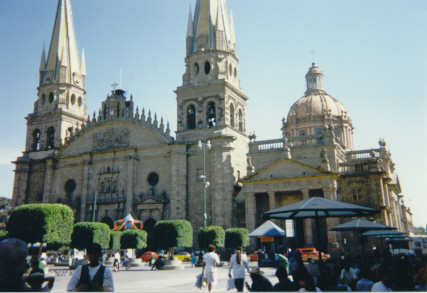 GUADALAJARA is located west of Mexico City in the state of Jalisco on a mile-high plateau that gives the city a year-round temperate spring climate. The city is close to Lake Chapala, Mexico's largest lake, and also close to Puerto Vallarta, making it a great city-after-the-beach sidetrip for many Mexico visitors. GUADALAJARA is also an educational and commercial center for Mexico -- and a retirement home for many Americans.
The place to start your sightseeing is the gigantic Plaza Tapatia, which is a pedestrian walkway that sprawls for many blocks and takes you past many of downtown's museums, significant architecture and some of the best shopping. For the best bargains, check out the massive Mercado Libertad where you can buy anything and everything under one enormous roof. Another interesting place for shoppers is the charming, colonial Tlaquepaque neighborhood, where high-end artisans work in their studios and sell their colorful creations.
If you like mariachi music, the Plaza de Mariachis is the place to hang out in the early evening for a beer and a song. And the lovely, sprawling Agua Azul Park is a beautiful place to spend an afternoon gazing at art, flora and fauna. For a vibrant presentation of Mexican culture and history, don't miss the popular Ballet Folklorico dance extravaganza at the historic Degollado Theater.
The majestic 16th Century Cathedral ( above ) rises alongside the Zocalo Main Square of colonial Guadalajara


The next Guadalajara Gay Getaway Weekend is SEPTEMBER 21 to 25 2016
For nourishment, try eating at any of the excellent restaurants downtown -- all authentic Mexican cuisine of the region and all quite affordable. One of the best is La Feria, where you get a cultural song-and-dance presentation with your meal. Another good choice is La Chata, which offers traditional Mexican dishes in a more relaxed, homey atmosphere. And one of the best eating spots to watch the world go by is at the open-air cafe Las Sombrillas near the city's gorgeous 17th century Cathedral.
For nighttime fun, you have a variety of gay clubs, discos and cantinas to choose from for dancing, drinking or just making new friends. A BETTER WAY TRAVEL provides a complete, updated list of the gay scene with every travel booking.
For an exciting, culture-filled vacation with a real Mexican flair, GUADALAJARA is the perfect escape.
The GUADALAJARA PINK PAGES is a COMPREHENSIVE PACKET of information about gay nightlife, tourist activities and recommended restaurants, with addresses, phone numbers, menus, coupons and maps -- an essential resource for planning your dream vacation. It is FREE with all A BETTER WAY travel bookings, or 5 dollars by itself. Send an email request to Info@aBetterWayTravel.com.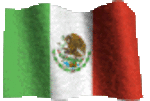 Guadalajara is one of the most beautiful cities in the world -- and one of the friendliest
SEND AN EMAIL FOR MORE INFORMATION